What makes women, girls, survivors of violence, remember the clothes?
Action Shero Gayatri Tandon
Action Hero Anonymous
I picked up these pants, as well as my underwear, a t-shirt, and the sheets from my bed in massive "evidence" bags from the police station a year after the assault.
A boy on my floor (a football player who would later go on to play in the NFL) drunkenly entered into my room, pulled down his pants, and pinned me down onto my bed. I never asked for him to enter my personal space, I never asked for him to fondle me, and I never asked for the aftermath -the horrible, unimaginable attention- that followed me for years to come.

He was 20
Time 12:04AM
Date January 27, 2004
Action Hero Priya Himmatwali (name changed)

I was twelve when my brother in law attempted to rape me.
I fought hard and pushed him away. I ran away the next day. I remember this shirt. I remember sitting on the train from Delhi to Kolkata, alone, terrified, hoping to reach my mother.
Action Hero Anonymous
" If you don't take this garment from me- I will have to throw it. "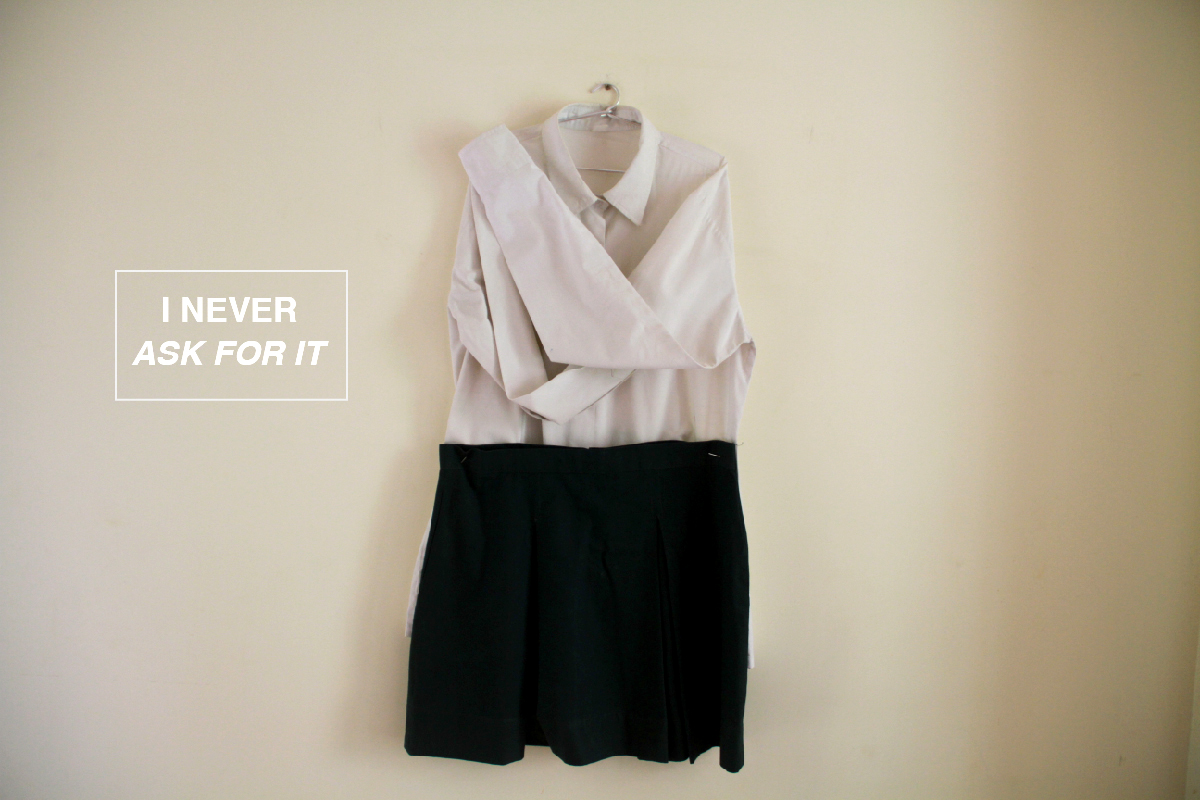 Action Hero Anonymous
It was the school tailor.
Three of my school friends told me, years later that it happened to them too.
I Never Ask For It
Action Hero Unrelenting Furiosa
I have lived on this street all my life, and there's this driver who was, I wouldn't say misbehave but he was very free with his language and comments about women's bodies when they would walk passed him. He's about as old as my father, so he's a good 20 years old or over. And that morning I was walking to go get an auto, and go to work. So he turned around and started making kissing noises at me and I don't know what spurred me on but something in me just tripped. I said I can't be taking this kind of treatment from this man anymore because he's also made comments about the size of my breasts several times when I have walked passed him in the past. So I walked up to him and asked him what his problem was. And I told him that don't you know that irrespective of all the considerations, I am as old as your daughter or your grand daughter for that matter. And **this is not the first time you have misbehaved and as usual he feigned innocence. He began telling people " you're so young why will I do something like that?" ** and I think the worst part of that whole situation was that, of course lots of people stopped because there was commotion, but every single one turned around and asked me why I was making such a big deal about nothing. It didn't help that this man was old, and looked vulnerable, but even the women there said "you know what you shouldn't pay attention to these things, and you should just walk away, they'll be like that only. You should know you shouldn't make so much of noise about little things like these." So it always starts with the smallest of these instances, they're going to keep pushing you. They start with comments, then they'll start with slight touches and they then will go all out.
And only then will people start taking you seriously when they have evidence or proof of sexual abuse and violation. And what I was wearing that was actually a below the knee level length Kurta with leggings and a sweater also. It makes you feel dirty because somebody is talking about your body in a way that you don't look at it yourself. And they may not realize it but it instills a sense of fear that if this person is noticing these things about me that he's also thinking about , (the next thing my mind thinks) is that he's probably thinking about violating it.** So I'm constantly walking around in fear** because he's explicitly expressed his desire or his want to do something with my body without my permission. So you may dismiss it as small, people may dismiss it as little, but psychologically I've spent sleepless nights rerouting my paths and rerouting the route I take to work the next morning just to avoid this person, just to avoid that feeling of fear that he put in me every time he said something about my body. That feeling of self consciousness, that feeling of just feeling dirty because that's not how you see yourself. That's not how you want other people to see you.
I was angry, there was so much anger and it actually made me realize that I've been harboring silently so much anger that I wasn't even conscious of until that moment because I was shaking by the end of it. And we shouldn't have to suppress those feels of anger so much is what I realized that day. If something makes you angry you should be able to stand up for it , stand up for yourself without having to suppress and walk around quietly . just because there are people around you saying that its not a big deal. It is a big deal and I realized that from the time I was a child these instances and incidents that happen on a daily basis I just bottled up and just caused so much anger that was harming myself by not letting myself express it or not having people who would understand what it is that I was going through Bangalore.
I was groped on the train to Coimbatore.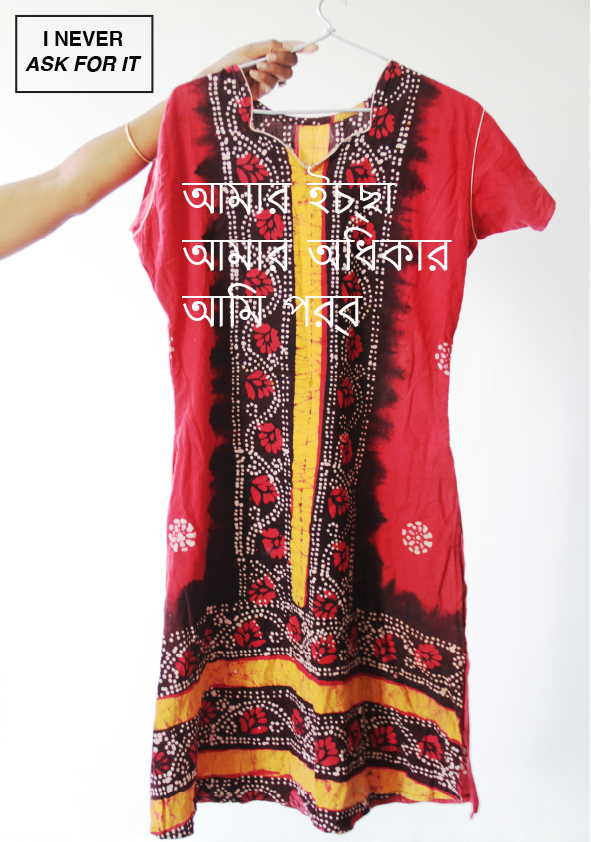 Action Hero Sapna
My husband died five years ago.I was harassed for wearing this red kurta.
They taunted and teased me because I am a widow and expected to wear white.
My wish. My right. I will wear it.
I wish to go to Puri beach , and let my hair down,
want to wear a pair of jeans with a sleeveless top and be photographed.
My wish. My right. I will wear what I want.
Action Hero Mayla
"I'm tired of my body being sexualized. I am tired of being seen as a sexual object first. I am tired of fighting for my safety."
Montreal
Action Hero Stand Up Queen
I was caught in the mob, in Bangalore, on New Years Eve
I've always talked to strangers during my travels. Those snippets in time where our lives briefly intersect provide an insight the written word can never do. Young or old, foreign or native. A smile and a few words have led me to some of the fondest memories I still cherish today.
And so on a bus headed north from Kuala Lumpur I did as I've always done. I struck up a conversation with the boy from India seated beside me. It was both his first time in Southeast Asia and traveling on his own. He had no clear plan except his immediate one which was to take the bus all the way north to Bangkok.
I balked at that. The trip between these two capitals was 18 hours, not including stops, and skipped past countless of places holding unlimited adventures along the way. I suggested he travel slower and convinced him to follow me and get off at Georgetown, an old colonial town two hours south of the Thailand border. He agreed and we both checked in to the hostel I had made a booking at.
That evening we had dinner at a local night market. He wrinkled his nose at my selection - pork over rice - as I told him about my travels thus far and my life in the U.S. He told me about the beauty of Kashmir, his hometown, and how they were wrestling with the influx of tourism. He cut off our conversation early and excused himself, saying the smell of meat around us was bothering him.
I didn't see him for the rest of the evening. I didn't see him until I was woken up in the early morning with the weight of his body on top of me. His hips pressed against me, his face leaning into mine, shushing me in the coed dorm we shared with other travelers, all who were still sleeping. I shook him off but he didn't budge and continued to try and silence me. "Get. Off. Me." It wasn't until I hissed at him that he slid off my bunk bed.
I laid awake not knowing what to do. Did he think I was interested in him? Was it my fault? Had I somehow encouraged him? Should I tell the hostel workers about this incident? As I tossed around trying to fall back to sleep I realized I could still smell him on my pillow.
In the end I did nothing but avoid him and the entire situation. He checked out that morning and I went on my day, squashing the memory and befriending two other solo travelers during breakfast. It was not until that evening, when I climbed up to my bed and realized his scent was still there, did I tell someone.
Looking back on it I wish I had confronted him. I was easily a decade older than him and raised in a western society that teaches women to speak up. Yet I did nothing. And now, years later I've finally understood why. I've understood that my personal need for suppression and to smooth things over is a reflex that women learn while growing up. A reflex that doesn't go unlearned until we as a collective understand how much impact and influence there is with speaking up.
So while I'll never be able to track down that boy again, I know that it's never too late to speak up. And in doing so will hopefully let others know how frequently this occurs and how important it is to share our experiences.
Oh and I still talk to strangers. That part of my identity will never be taken from me.
Action Hero X
I was in the Arabian sea, in Goa. My friend and I were jumping over the waves. A man, possibly in his mid twenties took his penis out towards us, and started masturbating. There was a host of young boys with him , who were laughing. I started swearing at him, in hindi. He ran away. He didn't think I could yell back. The boys ran away too.
Action Hero Annie
An unknown man touched me.
Andheri Station, Mumbai.
I was 21.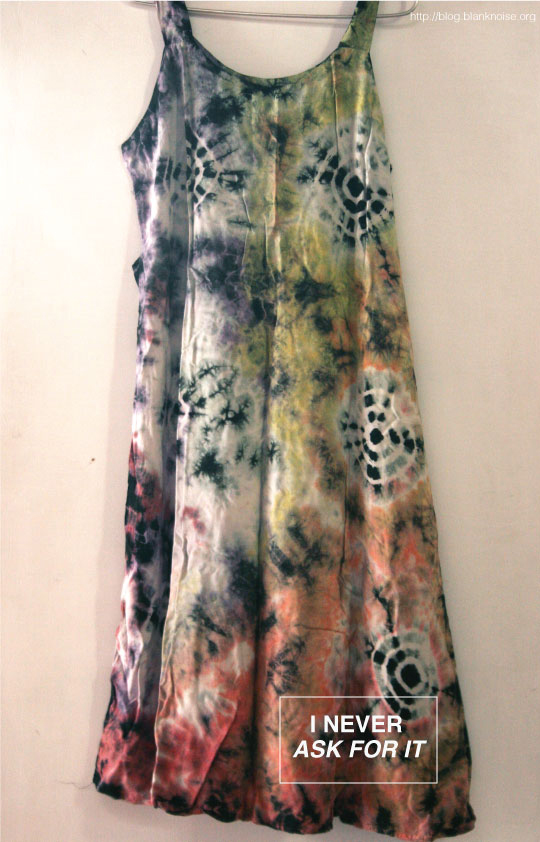 Action Hero Amalie
This is something that happened to me in Oslo the spring of 2011. It is something that I have laugh about in the preen socialised in to thinking, but it really scared me. It happened so quickly, and it was painful.
I have always been the worst person to scare. Even when I was little, my friends would never jump out behind a corner with me. They knew from experience that I don't laugh and I don't cry either. I get angry, no I get furious. The man who hit me was in his 30s, moderate drunk, and quite tall. If he had not taken me by surprise and scared me so much, I would probably have reacted in a different way. But in that situation I started yelling at him. I asked him if he was out of his mind, that he had scared me and hurt me, and I asked him why. It seemed like my reaction surprised him. Especially that one very simple question. -Why?
When both Ida and I tell this story, we have tended to emphasise the way I reacted. Like it was something extreme over it. This scares me a little. Because I honestly think it was the right way to react, but at the same time it seems to make the story something to laugh about. Some has even said «poor guy, he messed with the wrong girl». And maybe we should say «poor guy». Not because he didn't get what he wanted, but because I think he realised that he had scared me and hurt me. I think he realised that I wasn't something he could sexualise, I was a person he had deliberately done something bad to. And understanding that, must have hurt.
The story ended with him apologising in a way that I found very sincere, and walking back the other way. I honestly think that he will never do such a thing again. If I had not reacted the way I did things might have ended differently.
I Never Ask For It -because I did not even realise he was there before it happened. How could I have asked for it.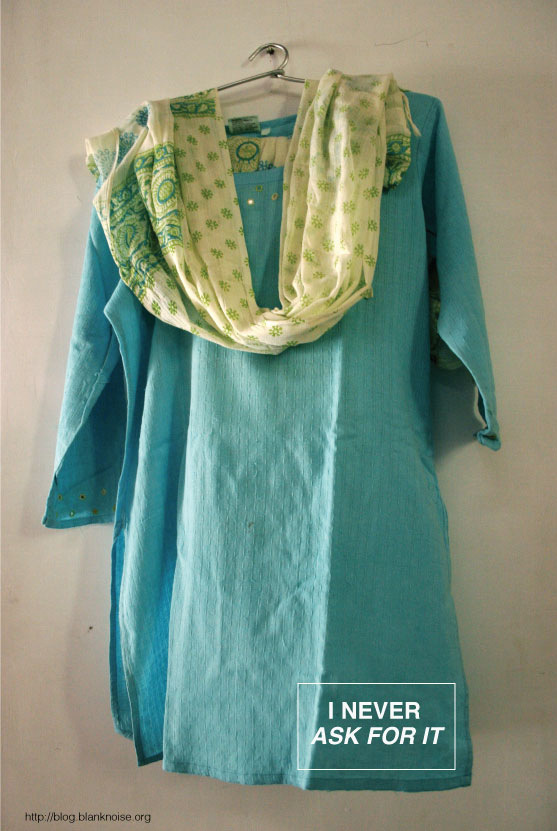 Action Hero 9
I was harassed , beaten and abused by the police. I am a sex worker . I Never Ask For It.
Bangalore.
Action Hero Berlyne
I was going to print out some public safety documents and so was trying to explain at a documentation what it is about , why I am an activist and why we were working on public safety issues such as abuse and harassment that mostly affects women . Then one guy and said most often women and girls are the cause of their harassment due to their dressing code. And then the guy told me men are moved by sight. He didn't end there but turned to me and said the dress I was wearing is tempting and could make a man to sexually harass or abuse me and insinuated it will not be the man's fault because it is because of the way I dressed. He also talked of how my breasts looked in the dress which was tempting because god make a woman's body to be naturally tempting to men. His statement made me very uncomfortable as there were also others there listening .
I later on told a friend of mine , asking her if the dress code was that bad that could make a man abuse me because I was so worried.
I am giving my dress to the I Never Ask For It campaign. I don't understand why a garment so modest is termed as sexual and why I was accused of attracting sexual harassment.
Cameroon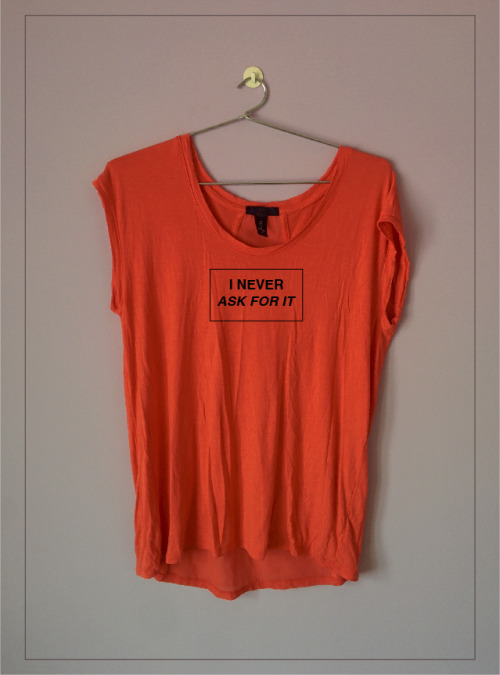 Action Hero, Happily Unmarried. Freshly divorced.
London. Fiji. India.
Age 31.
This dress is a present from my abusive ex husband an expensive dress from an expensive store.

We were newly married and on our honeymoon in another end of the world. We were on
I wore the dress. Swimsuit underneath.
We were going for a swim.
" You're going to wear this dress and step out ?"
" Yes. Why? "
" You're going to wear this dress outside? "
He repeated that again and again and again, the tone becoming increasingly aggressive , a warning before the storm. I changed into something I can't remember, did my bit to avoid fight, tried to tell myself it wasn't a big deal. We learn to do that. I wasn't okay doing it. It is a big deal.
Honeymoon was stressful. We were in Fiji. There were several unreasonable , unpredictable outbursts. That thing they talk about when they talk about 'walking on egg shells'. After months of repeated forms of control and emotional abuse, I walked out on my marriage.
My ex husband was 40. He was charming and manipulative. Well spoken and with a filthy temper , which he never took responsibility for.
I asked to be loved and cherished. Not 'tamed', controlled or aggressed upon.This dress is pretty but it stinks of you. Walking out of an abusive marriage is my greatest Action Hero story. I Never Ask For It.
Action Hero Z
I was uncomfortable and being stared at. I kept adjusting my shirt. I Never Ask For It.
Action Hero Abhishek
Once, while walking out of the college, a group of men followed me till the Metro station. They all were whispering but their giggles let out insulting gestures and they seemed 'amused' by me. One of them followed me till the inside and then I knew, it was enough.
I turned back to the perpetrator, something that we are ingrained to dodge and asked what his 'problem' was. I didn't seem very entertaining to him after that.
"I like dressing in colours, in different styles that could are often dubbed as 'weird for a boy' or are seen as gender subversive but even when I do dress in the simplest gender conforming clothes, something as simple as a red and white checked shirt, things don't always change. I still often find myself in a web of stares and unsaid questions on the streets but I pledge not to loose my colours. They are here to stay and so am I.
 
Place : Delhi Metro Station
Age: 24
Time : 1 00 pm
Action Hero Y
I was a the childrens science museum in Kolkata. It was part of a school project. The room was dark. In the midst of showing students around the museum, the person taking us around, groped me.

I Never Ask For It.
Action Hero Vrushali
I was walking towards my campus .Suddenly a man in a car asked me for directions. When I stopped to help him he pulls out his phone and starts showing me a porn video. My initial response was to just walk out of there as it was so out of the blue, I was just trying to help someone and did not expect this at all. At that moment all I wanted to do was get away from him, I was scared because he had a vehicle and there was no one nearby to help. I felt disgusted and angry at myself for not noting down the number of the car. I felt rage facing the fact that someone had the power to make me feel uncomfortable like this for absolutely no fault of mine. I still look at people suspiciously when they ask me for directions and avoid helping which is quite unfair to them. But I've not stopped going out, my mind has just become programmed to be extra careful and alert. I'm never defenceless or carefree - I want to be.
Action Hero AK
I was traveling in the Volvo 500 D bus (operated by BMTC, AC bus.) from Hebbal to Marathahalli in Bangalore, after work, in the evening, at around 6 30 pm. I did not get a place to sit. I stood in the bus, facing the
passengers, my back facing the aisle. The BMTC Volvo bus conductor touched my back with his hand, the area below the neck and the garment back. He just moved away. I was shocked and angry.
Action Hero Ragini
I was walking with my ex husband. His friend passed an inappropriate comment at me and my ex husband didn't say anything. I didn't like his friend's gaze…something not right. He made me uncomfortable. I also felt let down by my ex husband.

Age : 27
Time: 4 pm
Action Hero Arushi
I was on holiday, home from college, and a friend wanted to meet on Church Street. It was about noon time on a weekday - we went for coffee and a snack and he walked me to the MG Road metro station. As I hugged him goodbye a group of about 3 men lurking by the entrance sniggered.As I walked by one of them hissed "ssssslut" and the another said very audibly "how much did he pay you?"

It was just one of those times when what I heard registered only after I had walked by the men.The moment had passed and all I could do was continue on my journey, fuming, coming up with witty retorts and alternative scenarios where I might have emerged victorious.

I think this incident stands out to me because when I was getting ready, I was about to leave in a pair of jeans and a tank top and I thought to myself I should probably cover up. I CHOSE to wear a sweater in summer in India in the afternoon to AVOID this exact situation and it happened anyway.

I ask to be left alone on public transport.
Action Hero Priyanka ( name changed)

I was elbowed and brushed against by a man on the street.
It wasn't 'just an accident'. I called him out, yelled and ran away.
3 pm. Kolkata. Age 19 years.
Action Hero Mulan
I don't want to attach the full story behind the image- it was not rape or cat-calling but it was an incident where i knew the male and he became very aggressive.
Age : 21 years
The perpetrator was a young male
Location: Toronto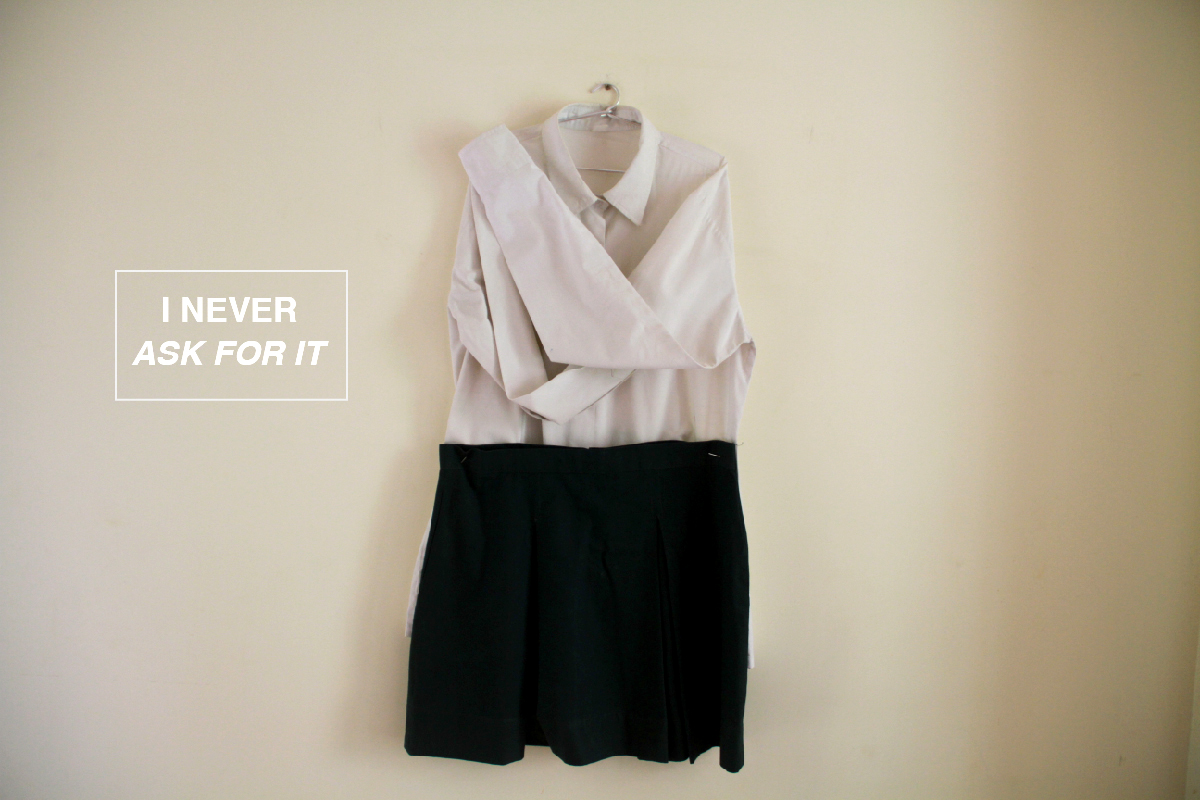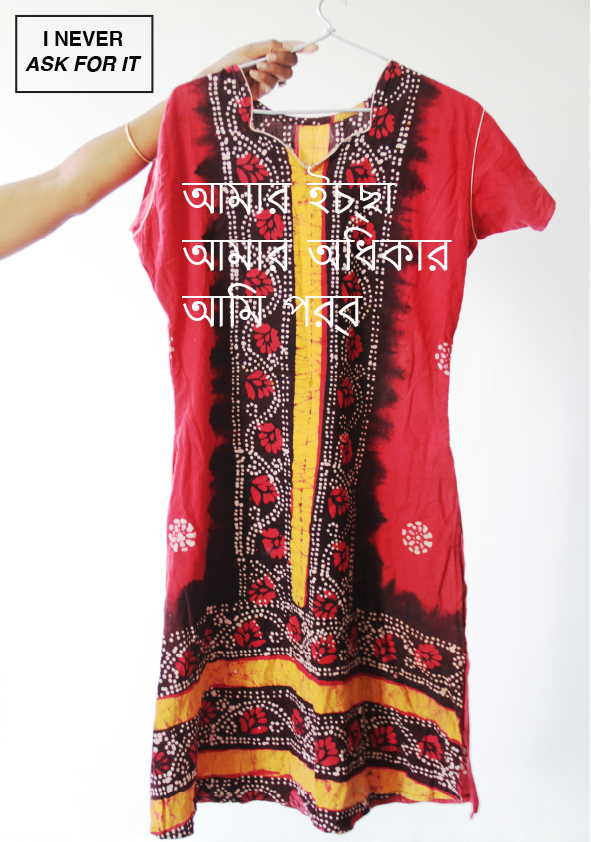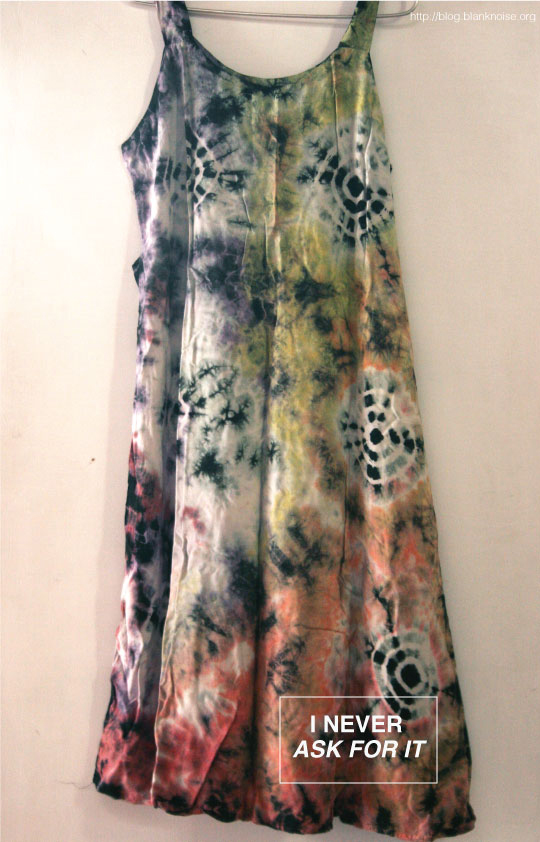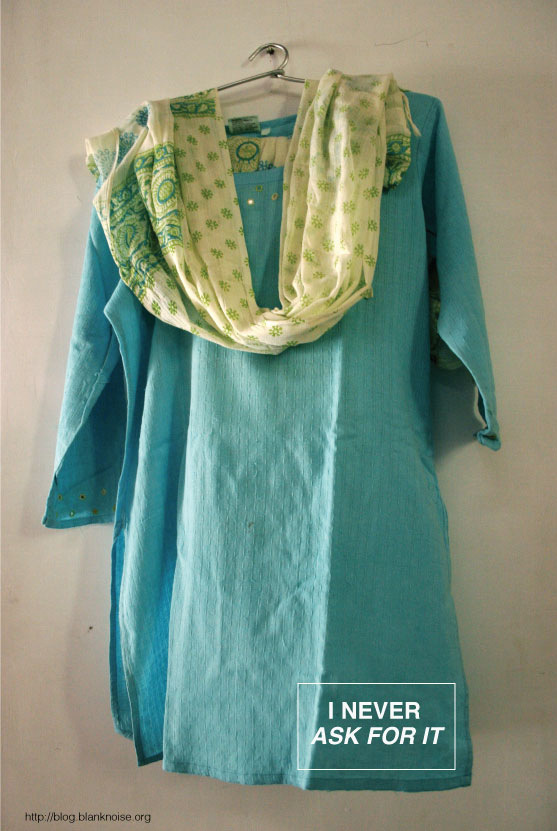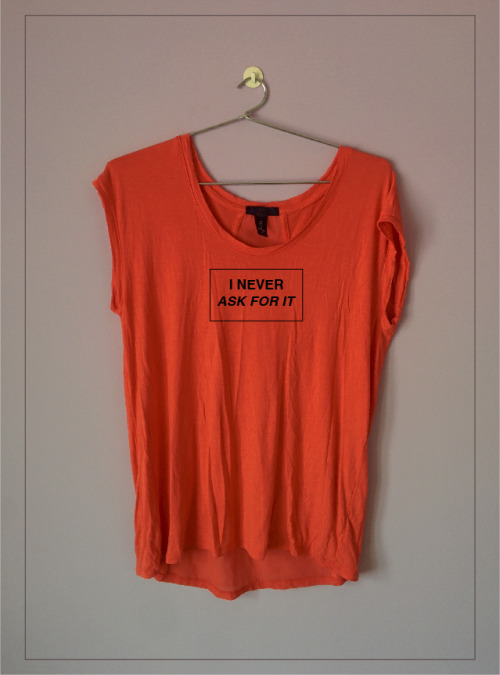 Listen. I Never Ask For It.
Garment and Audio testimonials
This holds a mirror to the truth that women and girls are raised in an environment of warning that repeatedly justifies sexual violence against them. I Never Ask For It is a mission to end victim blame by building testimonies of clothing.
Action Sheroes are revisiting memory, recalling a time they experienced sexual assault, discrimination or injustice. They are building I Never Ask For It by bringing the garment worn at the time of experience. The garment is memory, witness, voice. In 2023, ten thousand garments will stand united in sites of public significance.

Action Sheroes,also women, girls and persons just like you and me, unite.
May we never have to 'defend ourselves'.
Nor ever have to carry the weight of warnings.
We assert our right to live defenceless.
Sexual violence can no longer be justified.
#INeverAskForIt
Do You Remember The Clothes You Wore When You Experienced Sexual Harassment, Violence, Threat, Intimidation, or Abuse?
Send the garment you wore when you experienced sexual or gender based violence. Please add a note sharing your experience, and why you are stepping in to build this mission. Let us be heard. There is no excuse for sexual violence. I Never Ask For It.
Blank Noise
c/o Srishti Institute Of Art Design and Technology
Yelahanka
Bangalore 560064
Karnataka
India